Book Reviews
Check out these reviews for some of our newest YA Books: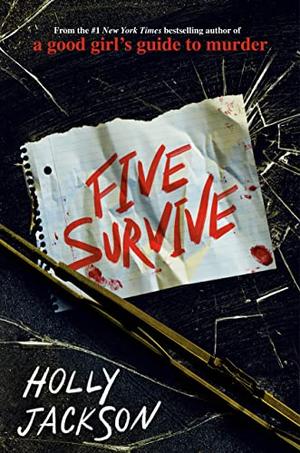 Five Survive
by Holly Jackson
-You can find this book here.
Red Kenny and her friends' spring break road trip veers off course when they are detained by a sniper.
Since her police captain mother's murder, Red has been inseparable from Maddy Lavoy, though it's often difficult for Red to witness the warm family dynamics Maddy and her brother, Oliver, share with their mother, an assistant DA and Red's late mother's best friend. Red, the Lavoy siblings, and three other friends—Reyna Flores-Serrano, Arthur Moore, and Simon Yoo—embark in a borrowed RV on a journey to Gulf Shores but instead find themselves in the crosshairs of a long-range rifle held by a man demanding that one of them reveal an important secret. As Red battles internally with her guilt and grief over her mother's death, her companions become increasingly volatile and paranoid as the group tries to discern whose secret is the one the hostage taker is after. The sometimes-tedious, sometimes-intense moment-by-moment breakdown of events in the 31-foot RV (that seems much smaller as the night wears on) magnifies the claustrophobia. Subtle indications that no one can really be trusted alternate with mind-blowing revelations. Toxic masculinity is often at war with common sense and good judgment, and moral ambiguity abounds. Red, Arthur, and the Lavoy siblings read White; Reyna is Mexican American, and Simon is cued as biracial (Korean and White).
Intervals of intense suspense and a well-crafted puzzle blend to create a thrill ride of a story. (maps) (Thriller. 14-18)

Review found .


Gleanings
by Neal Shusterman
-You can find this book here.
Welcome back to the post-mortal utopia of the Arc of a Scythe series.
In the original trilogy, Shusterman posited that even a true utopia is imperfect thanks to human nature. Here, he returns to the Thunderhead's world with a collection of shorter works that explore moments before, during, and after the end of the Scythedom. While some stories need only basic contextual knowledge of the world, most are directly related to Citra's and Rowan's experiences: prequel tales of teenage Scythe Marie Curie (gleaning the last corrupt politicians) and Carson Lusk (later Scythe Goddard and unpleasant from the start); stories focused on Citra's brother, Ben, and on the sister of the first gleaning Rowan attends in Scythe (2016); and even one from the perspective of the Cirrus, the multifaceted AI offspring of the Thunderhead. The always accomplished, straightforward writing is at its best when it moves away from the larger Scythe-Thunderhead politics and instead focuses on humanity, art, and love in a world without natural or accidental death. Standouts include "The Mortal Canvas," focused on the first (and maybe last) post-mortal artist, and the slyly humorous "Meet Cute and Die," about the niece of a domineering and needy Scythe in Britannia.
One for the legions of fans of this world. (Science fiction. 14-adult)

Review found here.


The Maze Cutter
by James Dasher
-You can find this book here.
Seventy-three years after the events of The Death Cure (2011), the Maze Runner world expands in this trilogy opener.
Isaac and Sadina are about to go on the adventure of a lifetime. Their island home has been safe from the Flare virus and infected Cranks, but when a ship called The Maze Cutter arrives with all but one crew member dead, everything changes. Now they're making a long journey to medical clinics in Los Angeles because Sadina's DNA could provide a cure for the latest version of the Flare. In Alaska, Alexandra, Nicholas, and Mikhail, who together form the Godhead, battle for supremacy. Lastly, Orphan Minho is sent to fulfill his destiny: trekking to Alaska to find the Godhead—though he has a secret plan of his own. Each chapter has subsections that follow a specific character, allowing readers to jump between various perspectives, keeping the action and intrigue levels high. This entry brings new life to the series with its diverse, international cast and expanded universe that explore the implications of the protagonists' earlier choices. The younger islanders are naïve about how things are working in the rest of the world, as faith in the Godhead shapes existence for the people of the new world. Here Dashner takes his original idea to a larger stage: Entire nations hang in the balance, and nothing is cut and dried.
Series fans will not be disappointed by this return to a world where danger lurks around each corner. (Dystopian. 12-18)
Review found here.

Teen and Tween Events | Summer 2023