Book Reviews
Check out these reviews for some of our newest YA Books: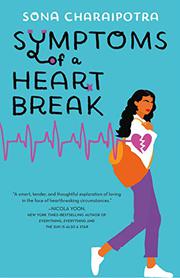 Symptoms of a Heartbreak
by Sona Charaipotra
-You can find this book here.
"Dr. Girl Genius" Saira Sehgal is America's youngest pediatric oncologist at age 16; she can't drive, but she can save lives—and she does in the opening chapters of this hilarious and touching rom-com.
Saira is not only training to be a medical professional, she's also trying to prove to her skeptical fellow interns that she is just as intelligent and hardworking as they are despite her overbearing mother's interference and overprotectiveness. It's not easy living up to the demands of her friends and her large, loving (and very authentically portrayed) Punjabi family, let alone community expectations due to her local celebrity status. When Saira begins to fall for Lincoln "Link" Rad, a floppy-haired, guitar-playing, half Korean, half Scottish and Dutch leukemia patient, it's "Diagnosis: Heartbreaker. Prognosis: I'm in trouble now" for the young doctor. And when Link is in desperate need of a bone marrow donor, it's Saira who uses her social networks and social media–savvy friends to seek a match. Charaipotra does not shy away from including Hindi and Punjabi dialogue (without translation) and dropping Bollywood references, yet she skillfully offers readers who are not cultural insiders ample context to decode everything without compromising the narrative or characters' integrity. Saira and Link's chaste chemistry is palpable.
A charming debut, part Doogie Howser, M.D. and part The Fault in Our Stars, offering rich, nuanced portrayals of Indian American family and professional life. (Romantic comedy. 14-18)
Review found here.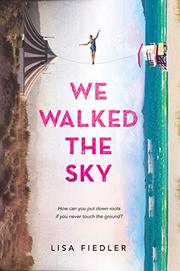 We Walked the Sky
by Lisa Fielder
-You can find this book here.
In a story told in two voices, several generations of women in VanDrexel's Family Circus learn how and when to be solo acts—and when to trust the net.
When the circus comes to Brooksvale, Massachusetts, in the spring of 1965, a wealthy 16-year-old seizes the chance to escape her abusive father. Renaming herself Victoria, she joins the circus, planning to leave once she's far enough away to build a stable, independent life for herself. She doesn't plan to become a tightrope walker, and she certainly doesn't plan to fall in love….Half a century later, 16-year-old high-wire star Callie and her mother, Quinn, leave the circus after Callie's secretive grandmother Victoria dies. Quinn's new job at an animal sanctuary in Florida puts Callie's career on hold, and she reluctantly enrolls at the local high school. Against Victoria's captivating and emotional narrative, Callie's resistance to a settled life reads as less sympathetic and her conflict as lower stakes, even after the discovery of an old box of keepsakes from Victoria's transformative and tragic young adulthood changes Callie's life. Victoria, Callie, Quinn, and those closest to them are assumed white; nonwhite characters are extremely marginal. While Victoria briefly mentions the "ugly din" of "riots" in Harlem and Birmingham, specific social and political movements go unaddressed; Callie's voice is similarly disconnected from current events.
A compelling story of identity and family that resonates most powerfully in its historical voice. (Fiction. 12-18)
Review found here.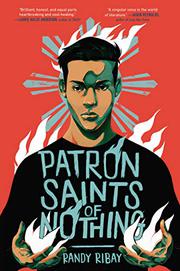 Patron Saints of Nothing
by Randy Ribay
-You can find this book here.
Seventeen-year-old Jay Reguero searches for the truth about his cousin's death amid President's Rodrigo Duterte's war on drugs while on an epic trip back to his native Philippines.
Shocked out of his senioritis slumber when his beloved cousin Jun is killed by the police in the Philippines for presumably using drugs, Jay makes a radical move to spend his spring break in the Philippines to find out the whole story. Once pen pals, Jay hasn't corresponded with Jun in years and is wracked by guilt at ghosting his cousin. A mixed heritage (his mother is white) Filipino immigrant who grew up in suburban Michigan, Jay's connection to current-day Philippines has dulled from assimilation. His internal tensions around culture, identity, and languages—as "a spoiled American"—are realistic. Told through a mix of first-person narration, Jun's letters to Jay, and believable dialogue among a strong, full cast of characters, the result is a deeply emotional story about family ties, addiction, and the complexity of truth. The tender relationship between Jay and Jun is especially notable—as is the underlying commentary about the challenges and nuances between young men and their uncles, fathers, male friends, and male cousins.
Part coming-of-age story and part exposé of Duterte's problematic policies, this powerful and courageous story offers readers a refreshingly emotional depiction of a young man of color with an earnest desire for the truth. (author's note, recommended reading) (Fiction. 14-18)
Review found here.
Upcoming Events
Thursday, November 14
4:00-5:00 pm
Register: https://forms.gle/ZTXDvfnJ9LXdVKGbA
Ready or not, school is here! What are you most excited about?