Questions? Feedback?
717-436-6378 (phone)
717-436-5053 (fax)
juniatalibrary@juniatalibrary.org - General email contact for the library

techsupport@juniatalibrary.org - Questions related to eBooks and Tech Support appointments
lifelonglearning@juniatalibrary.org - Account for lifelong learning programs and general newsletter

Connect with us on social media
Like us on Facebook! Join over 2,000 followers and receive the latest news and updates!
Follow us on Instagram! See great photos and videos of the library!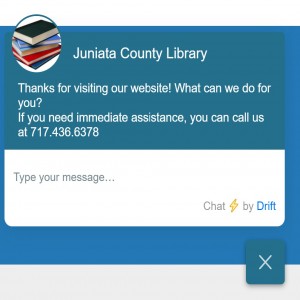 NEW - Chat with us anytime! Simply send us a message in the bottom-right corner dialogue screen and we will respond!
If you have a general question or comment please fill out the form below or contact us by phone or email. We read all of your messages and welcome your questions, comments, or suggestions. If a response is required or requested, we will make every effort to respond within two business days. In order to help us reply in a timely manner, please be sure to fill out the form accurately and provide as much detail as possible.