Historical Society
---
The Juniata County Historical Society is located in the lower level of the library building, accessible via the lower parking lot.
Hours: Tuesday: 10am - 4pm | Wednesday: 10am - 1pm
Contact: (717) 436-5152 | jchs1931@juniatacountyhistoricalsociety.org
Founded in 1931, the year of the County's Centennial celebration, the Juniata County Historical Society's Mission is the discovery, preservation, and publication of Juniata County's history. Our Archives Room is located in the lower level of the County Library in Mifflintown, where all of the Society's resources for historical and genealogical research are located.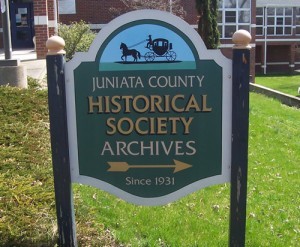 The historical society has a robust, organized genealogical and local history collection. The library upstairs has some local history texts and many school yearbooks. The historical society is where you will want to go for obituary requests or genealogical research.
In the winter months, the Juniata County Historical Society's Archives Room will be closed anytime the Juniata County School District is closed for bad weather. At other times, snow and icy conditions can affect winter hours. Please call ahead to confirm that the Archives Room is open.
The Archives Room is closed from December to March, and any other national holiday that falls on a Tuesday or Wednesday.