Passport Services
---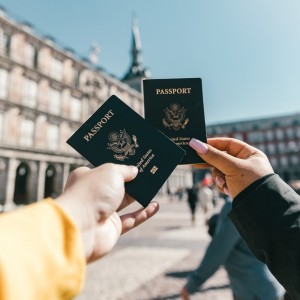 Make an appointment at the Juniata County Library to get or renew your passport!
Passport agents: Vince Giordano and Christine May
Passport fee chart
Passport fee calculator
Passport photos
Need a document notarized? We can do that!
Please note: all payments to the government must be made with a check or money order. All payments to the library can be made with cash, check, credit, or debit card.
Before your appointment
All applications must be filled out in black ink. Applications are provided at the library.
For minors: both parents must be present to sign for a minor under the age of 16 years. If this is not possible, form CD-3053 or a notarized letter must be provided explaining the reason for the absent parent.
1. Original copy of proof of citizenship either in the form of a birth certificate, naturalization certificate, or a U.S. Passport. This proof is mailed with your application to the passport office, and will be returned to you with your passport.
-Birth certificates must be issued by the state in which the birth occurred and have a raised seal.
-Any child under the age of 16 must have a birth certificate with both parents names listed.
-Notification of birth or a hospital certificate is unacceptable.
2. 2 identical passport photos
-2 inches X 2 inches, in color, front view, with a light-colored background, and taken within the last 6 months. No dark or non-prescription glasses.
-Photos already taken and printed can be provided to the library for use on the application as long as they meet the above requirements.
3. 1 other photo I.D. is required
-Example: driver's license or a PA Non-Driver I.D.
-A current photo school I.D. is valid for children.
4. Should your departure be in less than 10 days
-Speak to a passport agent at the library and they will give you the phone number and steps to take.
Make an appointment at the Juniata County Library to get or renew your passport! You will receive an email or phone call from a real person confirming your appointment day and time. Your appointment is not scheduled until you hear from the library.
After your appointment
Normal turn-around time is 6-9 weeks from the date the State Department receives the application (as of October 31, 2022)
All passports will be mailed to the address given on the passport application.