Friends of the Library
---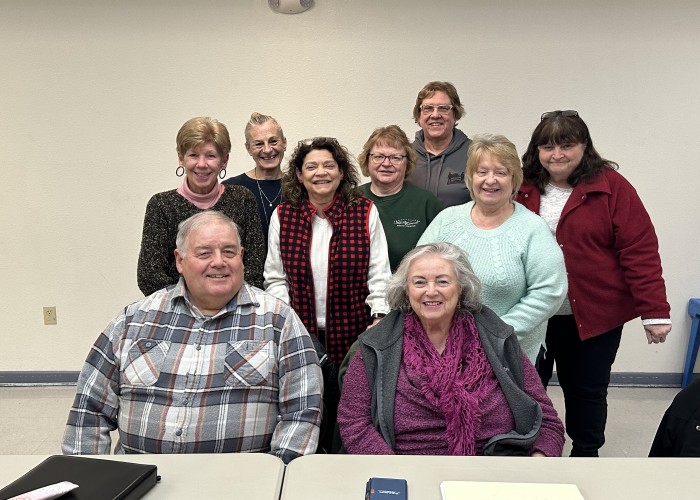 Above: The 2023 Friends of the Library Officers
Back row, from left to right: Ginny Haubert, Cindy Lucas, Karen Haas, Pam Clark, Deb Chambers, Nancy Chrismer, Nancy Ramgatie
Front row, from left to right: Richard Burkholder, Sally Switzer
The Friends meet on the first Thursday* of the month at 6:00 PM. in the Virginia Swartz Community Room in the lower level of the library.

*This changed from the first Tuesday to the first Thursday effective February 2023
State funding for the Juniata County Library continues to lag, while the use of the library has increased. Therefore the role of the Friends of the Library has become much more important! We are working hard to help the library reduce costs by volunteering to do various jobs. We are also working hard to raise money so that the library can continue to provide its usual services. We are doing this with our dues, and the money we raise from various fundraising activities. Help support great projects and efforts happening now!
With your support, the Friends of the Library have donated money for:

New computers for public use
Mobile hotspots that allow you to take the internet with you
New copiers that allow for color copying and mobile printing
Curtains for the entire building
A refinishing of the library's floors
New display shelves for the children's collection
Support of the children and adult summer reading programs
The Friends run the book sale here at the library and hold 3-4 sales a year. Click here to read more about the book sale.
---
You can join the Friends of the Library by stopping into the library and filling out a brief slip or you can download the form by clicking here. You may also view and print/download the form below.


Through the years we were asked to create a Friends Lifetime Membership Level. Guess what: we did just that!
Many of our Friends have converted their memberships to the Lifetime Membership Level. The good news is that these people never have to bother with the annual dues process again! While that is a benefit to the Member, this Lifetime dues amount of $200 benefits the Library as it enables us to increase the amount of money available for their needs.