Public Computers
---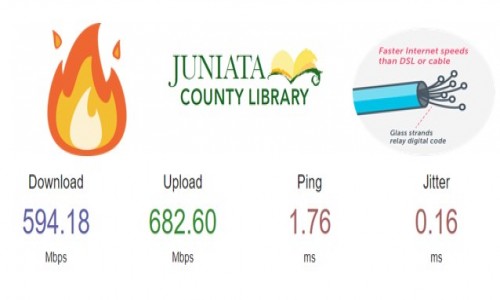 Free Fiber Internet Access
The Library has 8 public computers that can be used for free to access the internet, use Microsoft Office, and more. All computers run the latest version of Windows 10 or 7 and have Google Chrome, Firefox, Microsoft Edge, and Office 2016.
Our internet is provided by Nittany Media. Through an annual grant via the E-Rate program, the library is able to offer Fiber internet. Regular home internet gives on average 25 MBs download speeds. Our fiber internet gives over 600 MBs download and upload.
The Internet is provided as a free service. Visitors from out of town may use the Internet during their visit to the Library. In fairness to all our patrons, we have set limits on the length of time individuals may use this service. We will allow you a minimum of one hour per day during busy periods. Computers automatically shut off 15 minutes before the library closes. All downloaded content is deleted daily. Please back up your files before leaving.
Juniata County Library staff will be available to answer questions and assist with logging on to the Internet; however, we will need to assist other patrons as well, and cannot spend large amounts of time guiding you through the Internet. The Library does offer one-on-one tech appointments.
The library offers free Wi-Fi throughout the building as well as iPads and studio headphones for in-house use. No password is required for the Wi-Fi. Charging outlets are located throughout the building, next to chairs, and under tables.
In partnership with Juniata County Government, the library has a law library search computer. You may use this to access the free LexisNexis subscription for robust and exhaustive legal research. Click here to learn more about this service.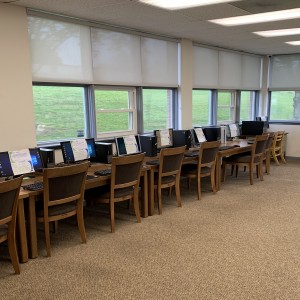 The following ethical standards must be adhered to while using the library internet:
-No copyrighted material may be copied
-Users must not do anything which will impede the use of the Internet by others or cause damage to Library equipment and/or software. Users will be liable for repair or replacement costs
-The Library does what it can to keep our computer equipment virus free, however, we cannot be responsible for any viruses that may be transmitted via Internet files.
-Users may not turn equipment on or off, change settings on the computer, plug personal equipment into the computers or load personal programs onto the computer.
-There is a fee for all printouts. 25 cents for each black-and-white copy (side) and $1 per color copy.