Digital Library (eBook and eAudio)
---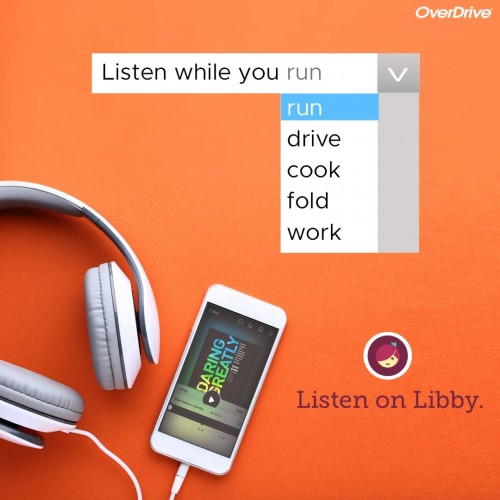 Read or listen to downloadable books! Find bestsellers to business, mystery to history, romance to politics, and much more on Libby.
With over 20,000 titles to choose from, take books with you on the go! All you need to get started is a library card. Click here to get a library card with the Juniata County Library or follow this link: https://www.juniatalibrary.org/using-library/get-a-library-card
Libby (iOS) (Google Play Store) (Microsoft App Store available on Windows 10)
Website: https://centralpalibraries.overdrive.com/
---
January 2023 Updates
The OverDrive app will be sunset at the end of April 2023.
As of now (01/30/2023) this will not apply to Kindle Fire devices.
In the weeks before the OverDrive app sunset, current in-app messaging will be updated to give users a final reminder to switch to Libby. After the OverDrive app is sunset, users who try to access the library's collection in the OverDrive app will see the following message, informing them they need to upgrade to Libby: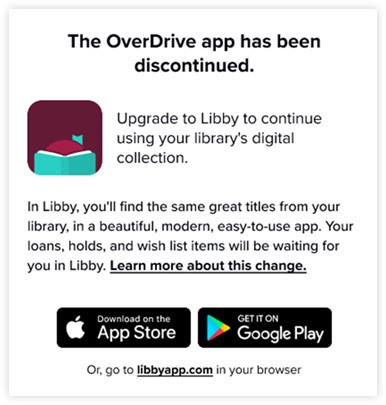 June 2022 Updates

The Overdrive app is scheduled to be turned off in early 2023. At that time all users will need to use Libby to get eBooks from our library.
Starting the week of July 25, the following message will be displayed to your users in the OverDrive app: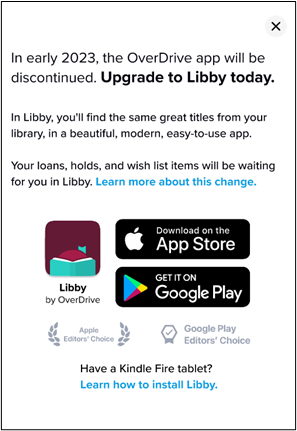 Amazon has not yet accepted Overdrive's submission of the Libby app to the Amazon Appstore. However, Kindle Fire users can now download the app onto their device manually. Follow this link to see how: https://www.overdrive.com/apps/libby.
May 2022 Updates
Effective immediately Libby is requiring all library cards to be current and have less than $5 in fines/fees. Our library cards need to be updated once a year to avoid expiration.
-To renew your current library card please complete this form: https://www.juniatalibrary.org/using-library/get-a-library-card
-To make a payment towards your fines please use our PayPal account where we can direct the amount to your account: https://bit.ly/2DHwiNI
-Questions? Please contact us: https://www.juniatalibrary.org/contact-us
February 2022 Updates
Effective today (02/23/2022) the legacy OverDrive app is no longer available to download from the Apple App Store, Google Play, or the Microsoft store*. Users who have the OverDrive app (mobile or desktop) installed will still be able to use it without disruption. All users can continue to access our library's OverDrive website. Overdrive remains available for Kindle Fire users.
*Please note it may take several hours for this change to be reflected in all app stores.
Later this year, we'll share more details on how OverDrive app users will be encouraged to switch to Libby and the plans and timing for the eventual retirement of the OverDrive app.
October 2021 Updates

• Beginning in February 2022 the OverDrive app will no longer be available. All content will be available on the Libby app.
• For iPhones and iPads Libby's minimum iOS version is now iOS 10. To use Libby on an iOS device, users are required to update their device's operating system to iOS 10 or newer. These are the steps to help iOS users update their operating system version.
• The legacy OverDrive for Mac desktop app is only supported on macOS versions 10.12.1 through 10.14.
• Users on legacy web browsers may experience issues loading libbyapp.com and should upgrade to a newer browser version, if possible.
---
What is Libby?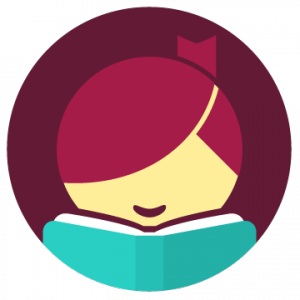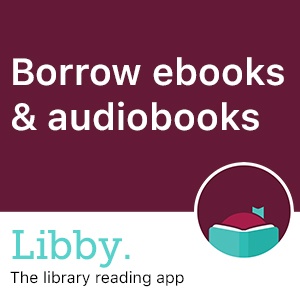 Libby by OverDrive is a free service offered by your library that lets you borrow digital content (like ebooks and audiobooks) anytime, anywhere. Every Libby collection is slightly different because each library picks the digital content they want for their users. We are part of the Central Pennsylvania District, which shares eBooks with libraries in Mifflin, Centre, and Clearfield counties.