Mobile Hotspots
---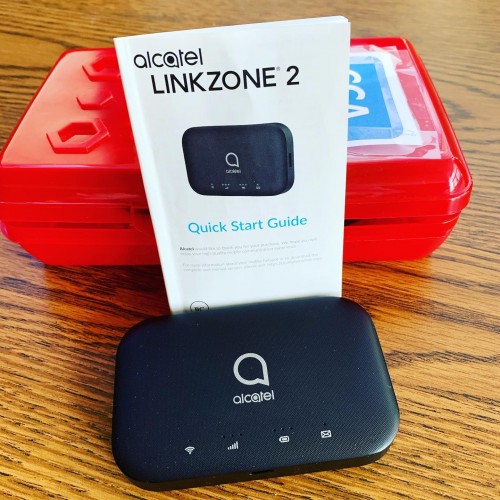 In need of affordable, high-speed internet? Or do you want to take the internet with you on your upcoming trip?
Check out a mobile hotspot at the library for only $10 for 2-weeks or $20 for 4-weeks.
Frequently Asked Questions
What is a mobile hotspot? It's a portable device that provides a Wi-Fi internet connection. It's perfect if you live in an area that can't get broadband internet or if you don't have a data plan on your cell phone. Hotspots are also great to have if you want to go on a trip and take the internet with you.
Hotspots will work with laptops, tablets, phones, TVs and most other devices that can connect to a Wi-Fi internet connection.


How does it work? Turn on the hotspot and go to the Wi-Fi screen on your device and select the hotspot's network name. On the inside of the case the hotspot comes in is its network name and password. Up to 10 devices at one time can connect to a hotspot. You will get a charging cable to keep the device charged.


Is there a fee to borrow a hotspot? The fee for borrowing for 2-weeks is $10 or 4-weeks for $20.


How do I reserve a hotspot? Hotspots can be reserved online using your library card, over the phone, or in person. We will contact you when it is ready to pick up.


Will this work where I live? Hotspots rely on cell phone service. You can check if the mobile hotspot provider has service where you are at:
-View T-Mobile service coverage map
-View Verizon service coverage map
-View AT&T service coverage map

On each website above you can plug in an address or zip code and see if coverage in that area is available. Please be sure to check if your address has coverage. If it does not, it will not work. If you borrow a hotspot and it turns out there is no service where you are, we can issue a refund.


Is there a data limit? Each cycle (1 month) the data limit is between 20 GB and 25 GB. Once the data limit is reached, the speeds will slow down considerably. Hotspots labeled CCA (Center for Community Action) have a 22 GB limit. CCA hotspots are provided to the library with the intent of using them for online education, telehealth, and or remote work.


How long can I have it for? You may borrow a hotspot for either 2-weeks for $10 or 4-weeks for $20.


Can I renew the hotspot I currently have checked out? As long as there is not a waiting list you may renew the device. However, mobile hotspots are in high demand and there often is a waitlist. Renewals will incur additional fees depending on the borrowing time requested.


Can I reserve the hotspot for a future date? Due to their high demand, we cannot guarantee your reservation will be fulfilled on a future date.


What if I forget to return or lose the hotspot? The hotspot data will shut once they are overdue. An overdue fee of $1 per day will begin to accrue. A lost or damaged hotspot will result in a replacement fee of $200. All hotspots will be checked for damage upon return. Please return the hotspot in clean condition so that it is ready for use by the next person.


I'm having trouble using the hotspot. Can you help? Absolutely! You can bring the hotspot into the library with your device or contact us by phone or through our website's live chat.
Check out a mobile hotspot at the library for only $10 for 2-weeks or $20 for 4-weeks.
Have you used one of our hotspots? Please complete our brief survey so that we can evaluate this service.