JCL at Home
---
We are still open to you while you are at home!
While our building is closed until further notice in response to the coronavirus outbreak, we offer thousands of free resources to you at any time!
Get in touch with us
Call Us: 717.436.6378. We check our voicemail daily and update our answering machine with pertinent details
Email Us: juniatalibrary@juniatalibrary.org
Find us on social media and more: Click here to see how you can connect with us.
Chat with us anytime! Simply send us a message in the bottom-right corner dialogue screen and we will respond in real-time!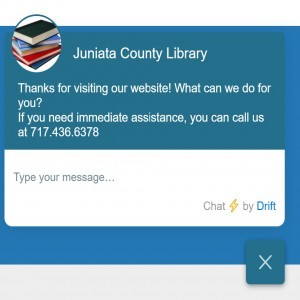 Our digital offerings
Frequenty Asked Questions
How do I return my books?
No fines are accruing on items borrowed from the Juniata County Library until further notice. Our book drop is locked at this time. Please keep materials home with you until we begin accepting returns.
How do I Get a Library Card?
During the closure of our physical building, we want to ensure easy access to all of our electronic resources. You may sign up for a new library card or renew your library card by clicking here: https://www.juniatalibrary.org/using-library/get-a-library-card
Please keep in mind that if you requested a replacement of your current library card, your new card number will replace your old one.
If you requested a new library card, it will be mailed to you in 7-10 business days.
Need help? Email us at juniatalibrary@juniatalibrary.org. You can also chat with us in real time on our website or social media pages.