Curbside Service
---
Curbside Service: Safe, Contactless Access to the Library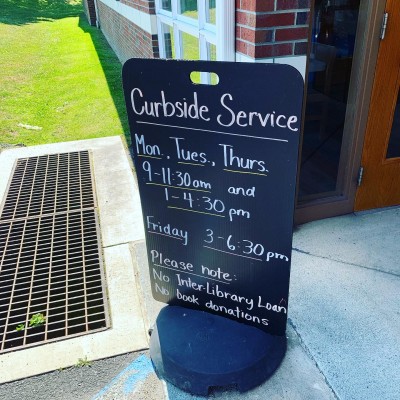 Start date: Monday, June 1st, 2020

I. What is curbside service?

a) Returns – you can return items and library staff will retrieve them in a contactless manner.
b) Holds – items can be reserved by calling ahead or placing a request online. Patrons can also request in-person and a library staff member will retrieve it.
All returned materials must be quarantined for 2-7 days. At that time, items may go back out into circulation.
II. Temporary Library hours

Monday, Tuesday, Thursday, 9 am - 11:30 am / 1:00 pm to 4:30 pm.
Friday – 3:00pm to 6:30pm
The 90-minute mid-day break on Monday, Tuesday, and Thursday will allow staff time to properly disinfect high contact areas, handle returns, re-shelve materials, pull books for holds, take a lunch, etc.
III. Temporary policy changes for library service
a) Interlibrary loan service: ILL will be suspended until further notice
b) Book Donations: no book donations will be accepted at this time
c) Office services (copies, faxes, scanning): suspended to limit exposure from patron-provided documents
We are still open to you while you are at home!
https://www.juniatalibrary.org/using-library/jcl-at-home
While our building is closed until further notice in response to the coronavirus outbreak, we offer thousands of free resources to you at any time!
Click here to see all that the library has to offer you while you are at home.