Contactless Library Service
---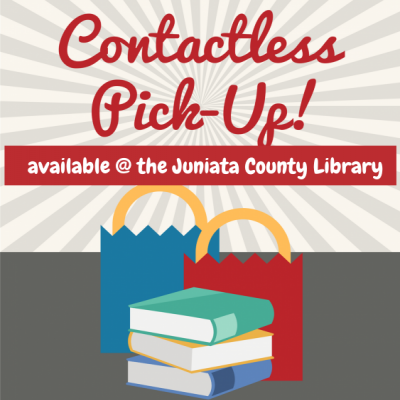 Start date: Thursday, December 10th 2020

What is contactless service? Our main lobby will be closed to the public and we will not be offering curbside service. You can now pick up your hold requests out front of the library and return your materials in our book drop.
Why did you decide to move to contactless service? COVID-19 case counts are spiking in Juniata county, our local hospital has reached max capacity, and there doesn't seem to be an end in sight. The flu season will start soon and many people will spend time in-person with friends and family for the holidays. All it takes is one cold or slip-up for a patron or library employee to become sick, exposed, or test positive. We can (and will) still offer outstanding service while limiting contact and the potential to spread or contract COVID-19.
How do I get books? The easiest way is to use our online card catalog and request items. You can also call us at 717-436-6378.
What else is changing when you start contactless service? Office services (copying, printing, faxing) will be unavailable as well as public computer use.
How long will this go on for? We will issue an update in mid-January 2021 and detail what we plan on doing next. You can follow all of our COVID-19 related updates on our website by clicking here.
We are still open to you while you are at home!
https://www.juniatalibrary.org/using-library/jcl-at-home
While our building is closed until further notice in response to the coronavirus outbreak, we offer thousands of free resources to you at any time!
Click here to see all that the library has to offer you while you are at home.